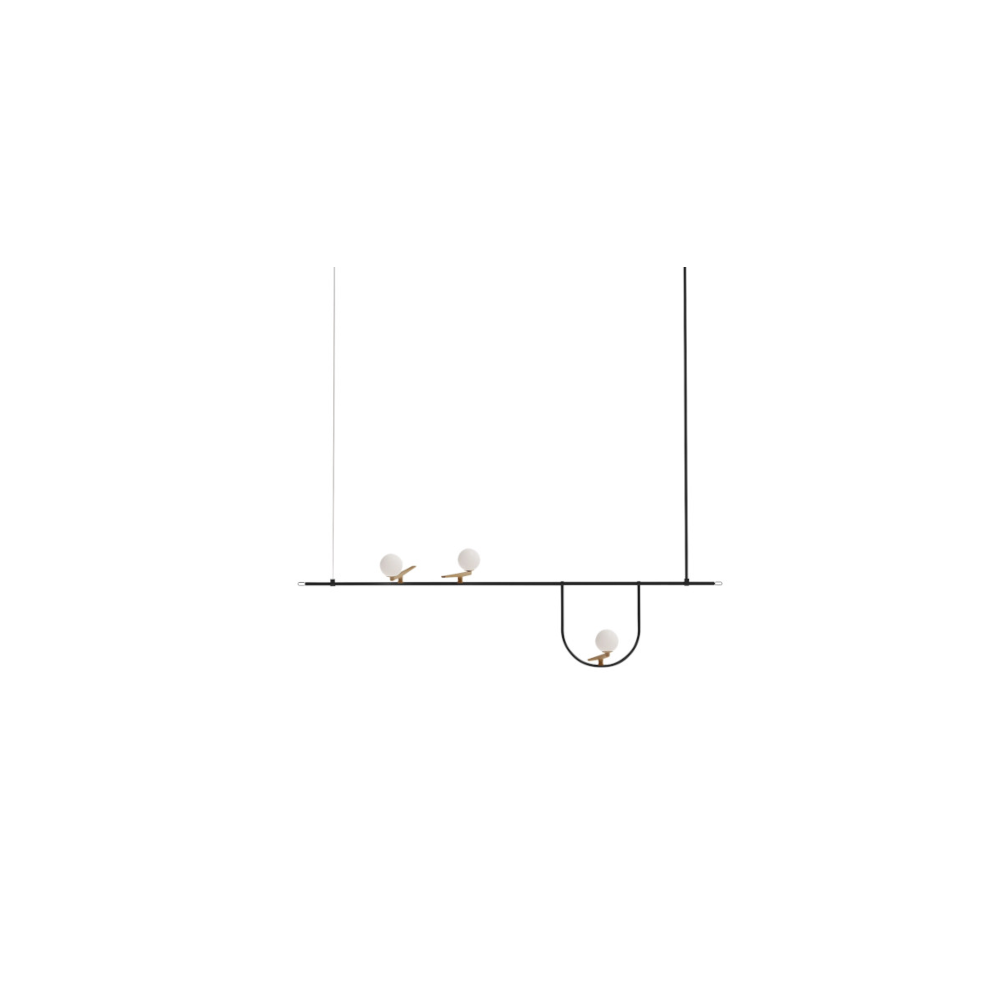 Artemide Yanzi
Yanzi is a line of chandeliers designed by Neri & Hu which is based on the constant search for the link between details and materials, shapes and lights; a bond that asks to evade the most stereotyped rules of design to give life to a project capable of astonishing.
Yanzi crea un connubio tra innovazione e tradizione attraverso l'utilizzo di composizioni leggere, quasi dei segni grafici, che mettono in equilibrio forme ispirate a rami o trespoli, sui quali si accomodano stilizzazioni di soggetti in grado di accogliere diverse tonalità e qualità di luce. Yanzi, tra i suoi rami, ospita rondini iconiche, il cui corpo è costituito da ottone spazzolato e il cui capo è rappresentato da una sfera di vetro bianco che va a racchiudere la luce, libera o contenuta in gabbie di vetro. Yanzi dimostra una sensibilità unica nell'abbinare materiali caldi e freddi, essenziali e al contempo ricercati, fuori dai classici schemi.
I lampadari Yanzi sono in grado di ricreare composizioni e paesaggi di luce che riescono a dare, con eleganza, profondità e vita a ogni spazio. Scegliere un lampadario Yanzi significa non solo arredare un ambiente, ma renderlo vivo, quasi poetico, in grado di trasmettere semplicità ed emozione.
Lampadari Yanzi Artemide
I lampadari Yanzi sono disponibili in diverse tipologie e con caratteristiche tecniche per ogni esigenza di design. Yanzi propone lampadari da tavolo (Yanzi table), in sospensione (Yanzi Suspension, Yanzi Suspension 1 e Yanzi Suspensione SC1) o da terra (Yanzi Floor). La potenza in watt varia da 9,5Watt a 26Watt, passando per 10Watt e 20Watt. Anche il flusso luminoso può essere scelto in base alle proprie esigenze, da 1414lm, da 2122lm, da 623lm o da 640lm.
Storia lampada Yanzi
I lampadari Yanzi sono stati ideati da Neri & Hu Design e Research Office, una pratica di progettazione architettonica interdisciplinare, la cui sede principale è a Shanghai, ma vanta anche un ufficio distaccato a Londra. Neri & Hu e il loro design hanno ricevuto una serie di importanti premi internazionali di design e sono iscritti nella lista dei 40 designer "under 40" più importanti che modellano la Cina.
L'idea di Neri & Hu è la creazione di un design che si adatti al contesto, personalizzato e ideato quasi su misura, per soddisfare le esigenze dell'ambiente e della persona che lo abita. Per fare questo, Neri & Hu ha fondato il proprio lavoro sulla ricerca volta a scoprire le peculiarità del sito, la sua funzione e la sua storia, perchè ogni progetto di design possa calzare su misura al contesto nel quale va a inserirai ed è proprio per questo che Yanzi è garanzia di originalità e qualità.