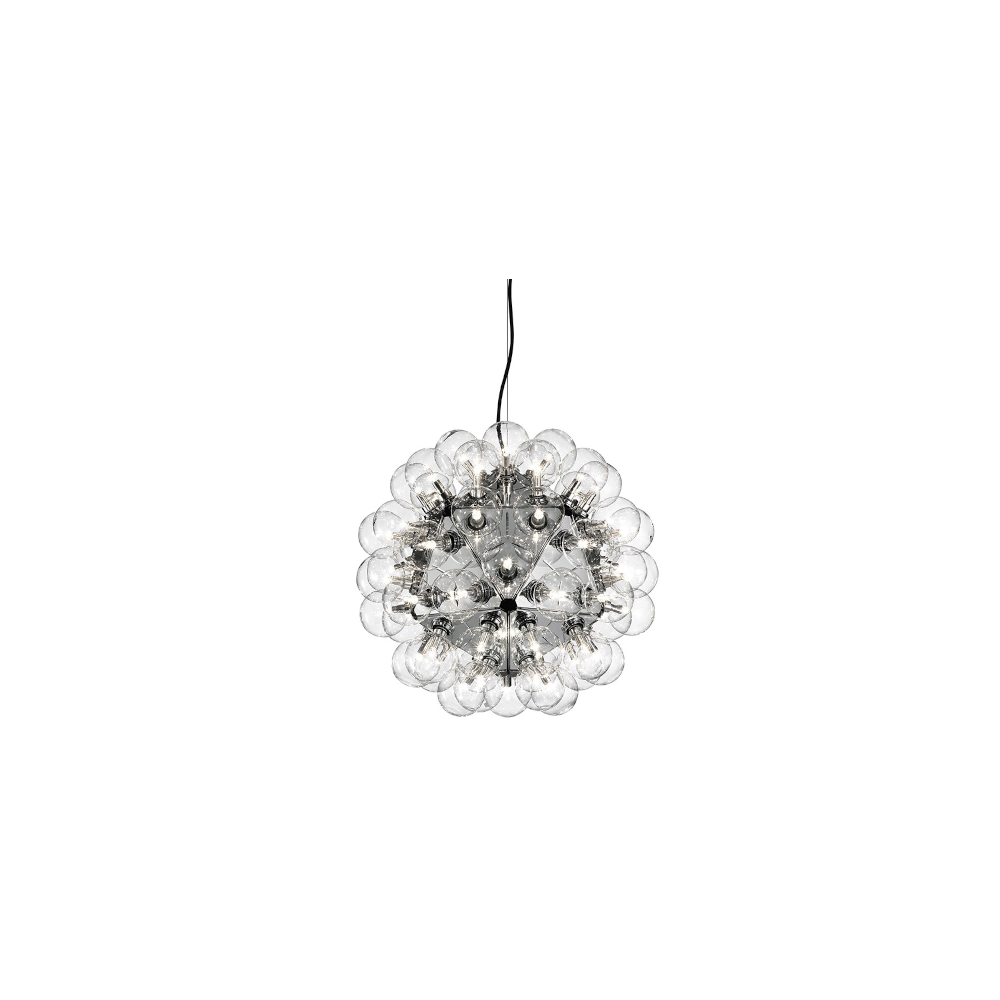 Taraxacum Flos
For Flos, light is the material with which to express new ideas and illuminate unexplored emotions. For over fifty years Flos has been creating objects of light and lighting up generations of dreams ...
La linea Taraxacum presente cinque modelli dal design unico ed elegante, progettate da Achille e Pier Giacomo Castiglioni con l'obiettivo di sviluppare un processo di design integrale.
La prima linea Taraxacum nasce nel 1960 dai designer Achille e Pier Giacomo Castiglioni. La linea richiama proprio il fiore da cui prende il nome: il Taraxacum.
Proposta in due varianti, Taraxacum S1 e Taraxacum S2.
Le lampade vengono considerate un pezzo contemporaneo e si inseriscono senza problemi in ambienti con arredamenti super moderni.
La lampada Taracaxum 1 è una lampada a sospensione unica, con essa i fratelli Castiglioni vogliono creare una concezione nuova della solita sospensione. È una lampada a sospensione in acciaio ricoperto in resina bianca plastificata chiamata "cocoon". La resina non viene preformata, ma spruzzata direttamente sulla struttura ed è protetta da un sottile strato di vernice trasparente che consente una migliora pulizia del prodotto. È ispirata al fiore Taraxacum, noto anche come fiore dente di leone, da dove nasce la volontà di lasciare le sporgenze ricoperte da questo velo in resina di cocoon per imitare proprio i fiori e rievocare la leggerezza dei petali. La lampada misura 68 cm di diametro e la struttura luminosa è alta 50 cm con un cavo di sospensione lungo fino a 4 metri, per poterla utilizzare in qualsiasi ambiente si voglia e in qualunque lunghezza.
La lampada Taraxacum 2 si presenta allo stesso modo e con le stesse caratteristiche ad eccezione delle misure, infatti la lampada misura 87 cm di diametro e la struttura luminosa è alta 64 cm con cavo di sospensione lungo 4 metri.
La linea Taraxacum 88 è composta da tre modelli progettati dal designer Achille Castiglioni nel 1988.
Il lampadario Taraxacum 88 S1 è ispirato al fiore taraxacum, da dove deriva il desiderio del designer di lasciare le lampadine a vista per giocare con la loro trasparenza e il loro sistema elettrico per imitare i numerosi rametti del fiore intorno al suo capolino. Questa struttura presenta una forma tondeggiante e raggruppa 20 elementi triangolari realizzati in alluminio e rifiniti con una cromatura splendente. I triangoli fanno da base alle lampadine alogene Globolux, che ricoprono l'intera struttura e che, in questo modello, sono60. Taraxacum 88 S1 misura 80 cm di diametro ed è alto 55 cm mentre, il lampadario Taraxacum S2 invece misura 105 cm di diametro ed è alto 60 cm e le lampadine sono ben 120.
La lampada Taraxacum 88 C/W è una lampada da parete o da soffitto, composta da 5 triangoli in alluminio lucidato stampato. È alta 31 cm e larga 61 cm, per il funzionamento sono necessarie 15 lampadine Globolux chiare.
I lampadari Taraxacum rubano la scena a qualsiasi altra fonte luminosa e, nonostante le creazioni siano datate, sono ancora oggi protagoniste indiscusse delle case che le ospitano.