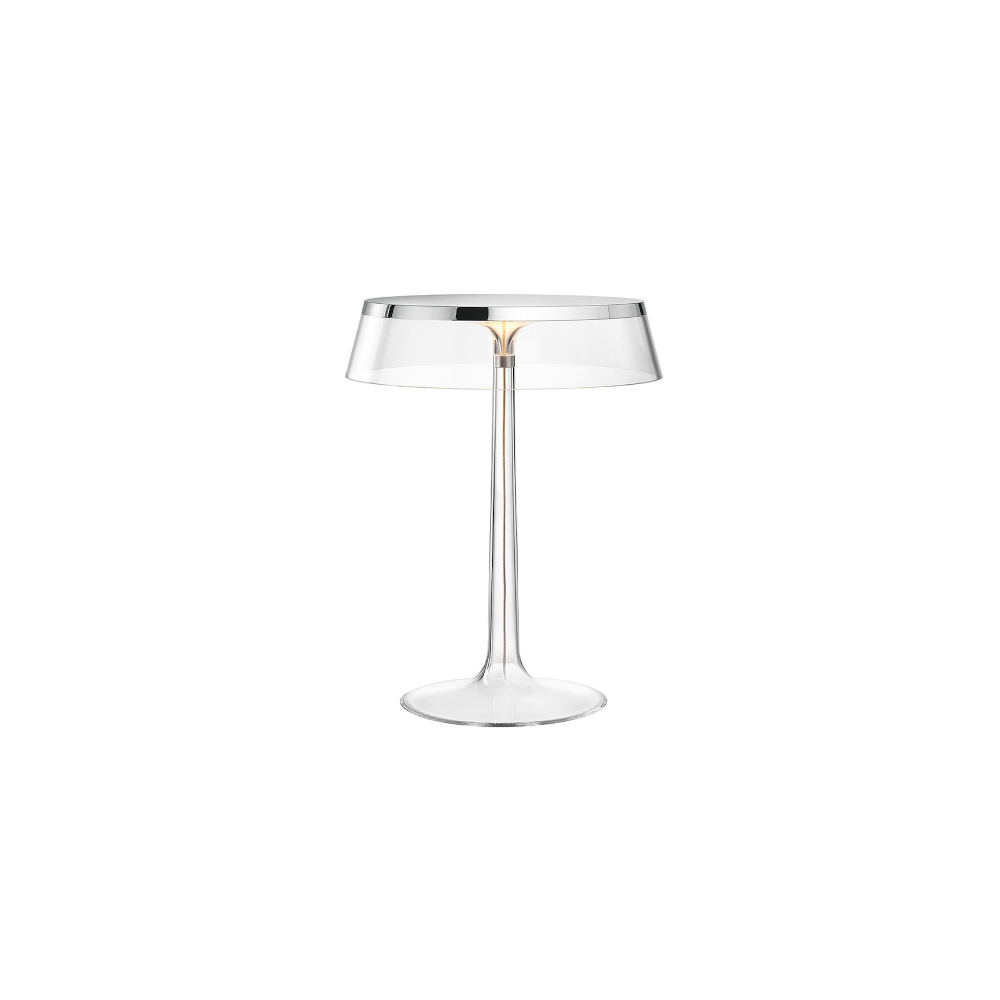 bon jour flos
Bon Jour Flos , the timeless elegance created by Philippe Starck, the undisputed genius of the new modernity and high tech dematerialization.
Bon jour lamps are available in four variants. ...
la prima linea Bon Jour Lè formata da una base nuda, trasparente, personalizzabile con una varietà di finiture e materiali intercambiabili. Sono create con una tecnologia rivoluzionaria Edge Lighting che si unisce al concetto di dematerializzazione. Sfrutta le potenzialità del LED e garantisce una luce perfettamente uniforme. Finiture corpo trasparente, cover disponibile in: cromo, cromo opaco, rame e bianco.
La linea Bon Jour Unlpugged è la versione più piccola di Bon Jour, ideale per un utilizzo portatile senza cavo. Dispone di batteria ricaricabile tramite micro - USB, e ha un'autonomia di 6 ore. La base e cover in ABS e finitura tramite sputtering o verniciatura. Slide switch posizionato sotto la base che garantisce la funzione dimmer 4-step. Finiture corpo in: cromo, cromo opaco, rame e bianco.
Bon Jour Versailles è l'erede della lampada Bon Jour, creata nel 2017 e presentata durante il Salone del mobile. Rivela linee senza tempo di un incomparabile leggerezza e razionale modernità. Una lampada dalla precisione inimitabile. Le lampade Bon Jour Versailles sono create in totale trasparenza con un design minimalista e ultra contemporaneo, le lampade sono tutte realizzate in PMMA trasparente, completamente attraversato dalla luce. Una lampada dalla leggerezza e dalla modernità mai viste prima. Create con tecnologia LED Edge Lighting unica e innovativa. La luce diffusa risulta calda ed omogena grazie a questo sistema rivoluzionario e ad un elegante paralume in tessuto plissé. Disponibile in due grandezze, Bon Jour Versailles presenta una base in PMMA dalle stesse linee classiche del cristallo, e un top cromato o ramato che consente il fissaggio della corona intercambiabile in varie finiture.
Le lampade Bon Jour sono un'innovazione senza tempo, un accessorio totalmente chic che non può mancare in nessuna casa.