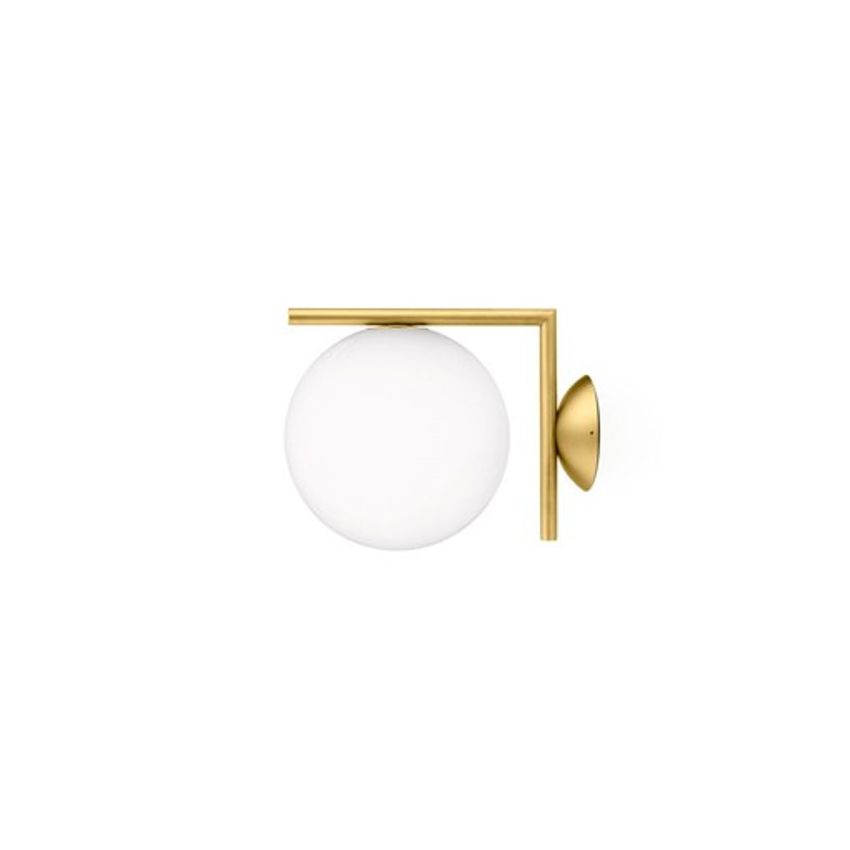 Ic Flos
The line of IC Lights lamps was conceived as a modern and essential piece of furniture, equipped with peculiarities aimed at enhancing the environment it illuminates and characterized ...
un gusto semplice e raffinato che da sempre affascina gli amanti dell'home living.
Il suo creatore e designer Michael Anastassiades è un creativo da 10 anni ed ha iniziato a lavorare assieme a Flos per esprimere le sue idee ed intuizioni senza alcun compromesso.
Storia di IC Flos
La sua vocazione lo ha spinto a realizzare numerose creazioni, tra le quali ricordiamo la lampada Arrangements, disponibile in diverse forme e dimensioni, la String light, semplice, funzionale e minimal, e la linea IC Lights.
Le lampade IC Lights sono pensate per ogni ambiente della casa, grazie alle loro linee pulite, alle verniciature eleganti e alla delicata sfera capace di illuminare anche le stanze più ampie. Le lampade IC Lights a luce diffusa sono costituite da una sfera opalina in vetro soffiato e da un telaio disponibile in 4 differenti colorazioni: in questo modo esse sono facilmente e naturalmente adattabili a quasi tutti gli stili d'arredamento.
IC flos è disponibile nei colori; rosso burgundy; ottone spazzolato; nero e cromo.
Una lampada IC Lights riesce a soddisfare le esigenze e le richieste di un gran numero di consumatori grazie all'intuizione del suo creatore, che ha deciso di differenziarla in 4 modelli, ognuno dei quali è disponibile in due diverse misure indicate con i numeri 1 e 2.
IC Lights Floor è la lampada da terra, acquistabile con un'altezza di 1,85 m o 1,35 m. La sua composizione perfettamente equilibrata la rende un pezzo d'arredo a cui è impossibile rinunciare nel proprio soggiorno o nel proprio studio.
IC Lights Ceiling/Wall è la versione da parete o soffitto, una lampada versatile e dinamica, particolarmente adatta per illuminare le scale dell'abitazione o i suoi corridoi. In base ai gusti e alle preferenze del singolo, la lampada può anche essere utilizzata in salotti e soggiorni.
IC Lights Table è la soluzione ideata da Anastassiades per tavoli, scrivanie o ripiani. Questa lampada è disponibile in tre diverse varianti: IC Lights Table 1 High, dall'altezza di 53 cm, IC Lights Table 1 Low, alta 38 cm, e infine IC Lights Table 2, la più piccola tra le tre, alta soltanto 35 cm. È semplicissimo adattarla a qualsiasi superficie, che sia un tavolino, una scrivania o un davanzale.
Infine IC Lights Suspension è una lampada sospesa capace di creare un'atmosfera rilassante, per chi ama gli ambienti con un'illuminazione soffusa.
Per Michael Anastassiades la luminosità è la qualità più importante di una lampada, capace di trasformare ogni esperienza in una forma di meditazione e riposo.