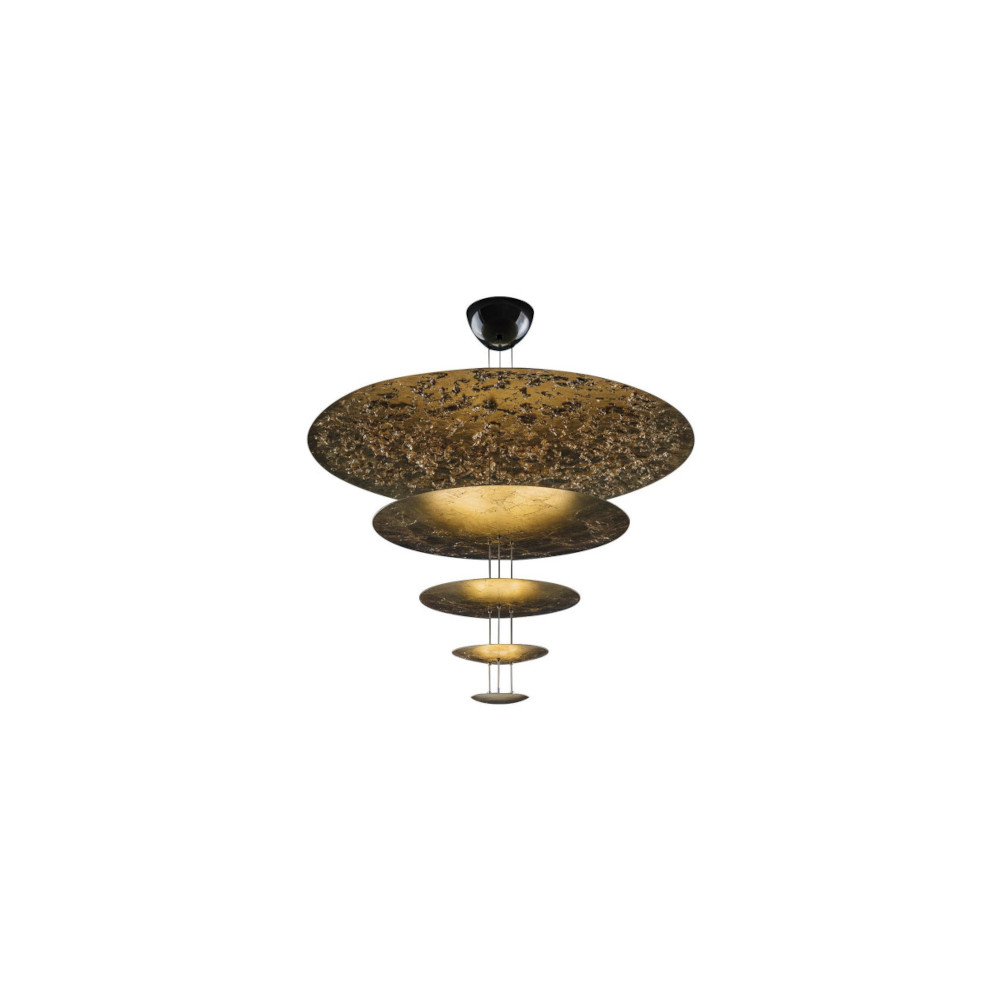 Macchina della Luce Catellani & Smith
The Machine of Light lamp is the evolution of the original Luci d'Oro collection, to which golden shades such as the sun or intense fire are added. The result is warm and every shape is revealed and welcomes us thanks to the inspiration and creativity of Cattellani.
Enzo Cattellani è un designer italiano che ha fondato un'azienda capace di realizzare lampade artigliali ricercate in tutto il mondo. Il suo fiore all'occhiello sono il prodotto luci d'oro e la macchina della luce. Le opere del designer sono un cesello di artigianalità e sagacia manifatturiera. Intorno alla sua ascesa ci sono anche leggende, si dice che facesse il parrucchiere, dopo prese in gestione il negozio di lampadari "Aladino", da lì nacque Castellani & Smith, il secondo nome non era altro che il suo cavallo. Catellani, mette le mani sui materiali, costruisce la luce, la interpreta, plasma la materia da una nuova visione alla luminosità.
Come nasce la macchina della luce
Catellani utilizza ferro attorcigliato: per una macchina della luce ci vogliono circa 470 metri di filo, oltre a un impegno di quasi sette ore per lampada. Le opere non hanno disegni e progetti, il designer immagina l'opera pensando ai materiali. Non si usano stampi, ma si sperimenta realizzando un prototipo con materiali basici, forme lineari e semplici che non vogliono diventare prodotti di commercializzazione di massa e ogni lampada è quasi un'opera unica.
Caratteristiche macchina della luce
Le lampade in commercio sono ricoperte con delle sottili lamine cesellate dalle mani e dalla maestria di artigiani sapienti. La macchina della luce e ricoperta con foglia color oro, rame e argento. La tipologia della lampada è a sospensione e utilizza materiali con dischi che diffondono la luce con un rivestimento sottile come una foglia che copre un disco di 120 cm di diametro. La lampada è sostenuta da aste in alluminio o di ottone e con base in nickel.
Possibili installazioni
La lampada nella sua arcaica essenzialità ha un fascino che apre gli ambienti, le linee morbide ed essenziali la rendono adatta per ogni spazio e installazione. La resa scenografica è immediata in uffici, nei saloni delle abitazioni e in locali pubblici.
Le nuove varianti della macchina della luce
Nel nuovo catalogo 2020/2021 i modelli di punta della Macchina Della Luce sono 3. Il prodotto è realizzato in tre varianti: il modello "D", la "I" e la macchina della luce "W" mod. "I". Tutti i modelli sono realizzati con un materiale basico di metallo e con dischi in alluminio o fibra di vetro. I colori hanno numerose varianti che vanno dall'oro, all'argento, al rame fino al bianco. La sorgente luminosa è prodotta con i LED.