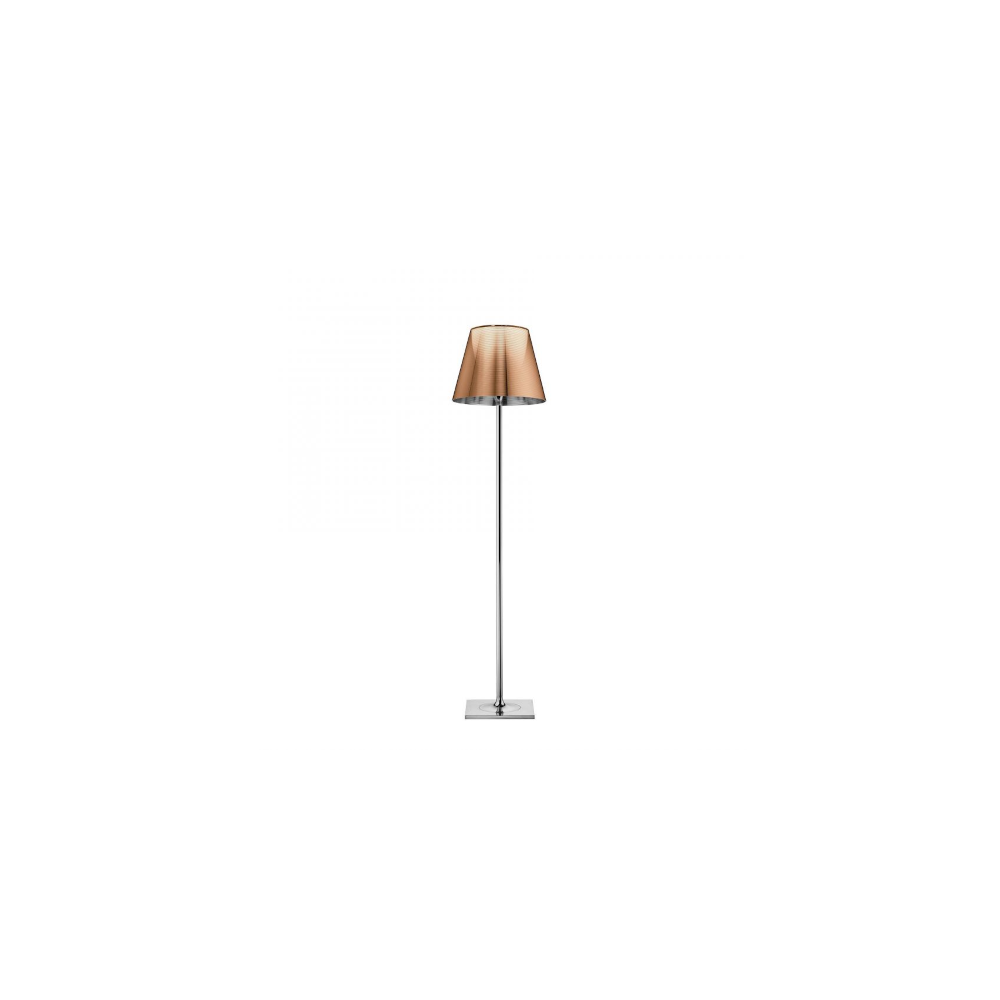 Ktribe
KTribe is a table and floor lamp with diffused light.
Its design is made from a base, rod support and diffuser in die-cast, polished and chromed Zamak alloy material.
The base is coated in PA, a nylon material, with an injection-molded black color.
Il diffusore interno, realizzato in policarbonato, PC, presenta una colorazione dalla tonalità opalino stampata ad iniezione, mentre per ciò che riguarda i diffusori esterni sono realizzati in diverse tonalità: fumè o trasparente in materiale PMMA, polimetilmetacrilato e dalle colorazioni bronzo o grigio sulla parte interna della superficie, realizzati attraverso un sistema di alluminatura sottovuoto.
Infine l' anello superiore in policarbonato, PC, sempre stampato ad iniezione si presenta dal colore trasparente o in alternativa trasparente marrone riguardante il modello con il diffusore esterno dal colore metallizzato bronzo.
Modelli lampada KTribe
L' innovativa lampada KTribe, presenta una seria svariata di modelli ognuno dei quali ha un diverso tipo di installazione, in modo da poter essere collocata in diversi ambienti della casa a seconda dei diversi gusti ed esigenze. I modelli disponibili sono:
Miss K: Questa linea di lampada KTribe è un modello per interno da tavolo con luce diffusa in diverse varianti di colore: rosso alluminato, argento alluminato, nero alluminato e in tessuto
KTribe Floor 3: è una lampada da terra con luce soffusa. Disponibile in tre differenti altezze: 1830 millimetri, 1620 millimetri e 1120 millimetri, è realizzata in tessuto, in argento alluminato, bronzo alluminato, nero alluminato e trasparente
KTribe Wall: La lampada di illuminazione Ktribe Wall è realizzata con design a parete; mediante un pulsante, collocato in prossimità del diffusore, è possibile grazie alla presenza di un dimmer remoto, poter regolare l' intensotà della lucesu quattro diversi livelli. Prodotta con un solo tipo di design, presenta colorazioni differenti: Fumè, trasparente, bronzo alluminato e argento alluminato
KTribe Suspension: Dal design a sospensione questa linea di apparecchio di illuminazione KTribe, presenta un rosone di colore bianco e tre diverse lunghezze di cavo di sospensione: 445 millimetri, 300 millimetri e 187 millimetri. Mentre le colorazioni disponibili sono: Argento alluminato, bronzo alluminato, fumè e trasparente
KTribeTable: Il design realizzato per un appoggio da tavolo, presenta in questa raffinato modello di lampada KTribe tre diverse varianti di altezza: 690 millimetri, 560 millimetri e 560 millimetri in versione vetro. Le colorazioni da poter scegliere sono, oltre a quella in tessuto: Argento alluminato, bronzo alluminato, fumè e trasparente.