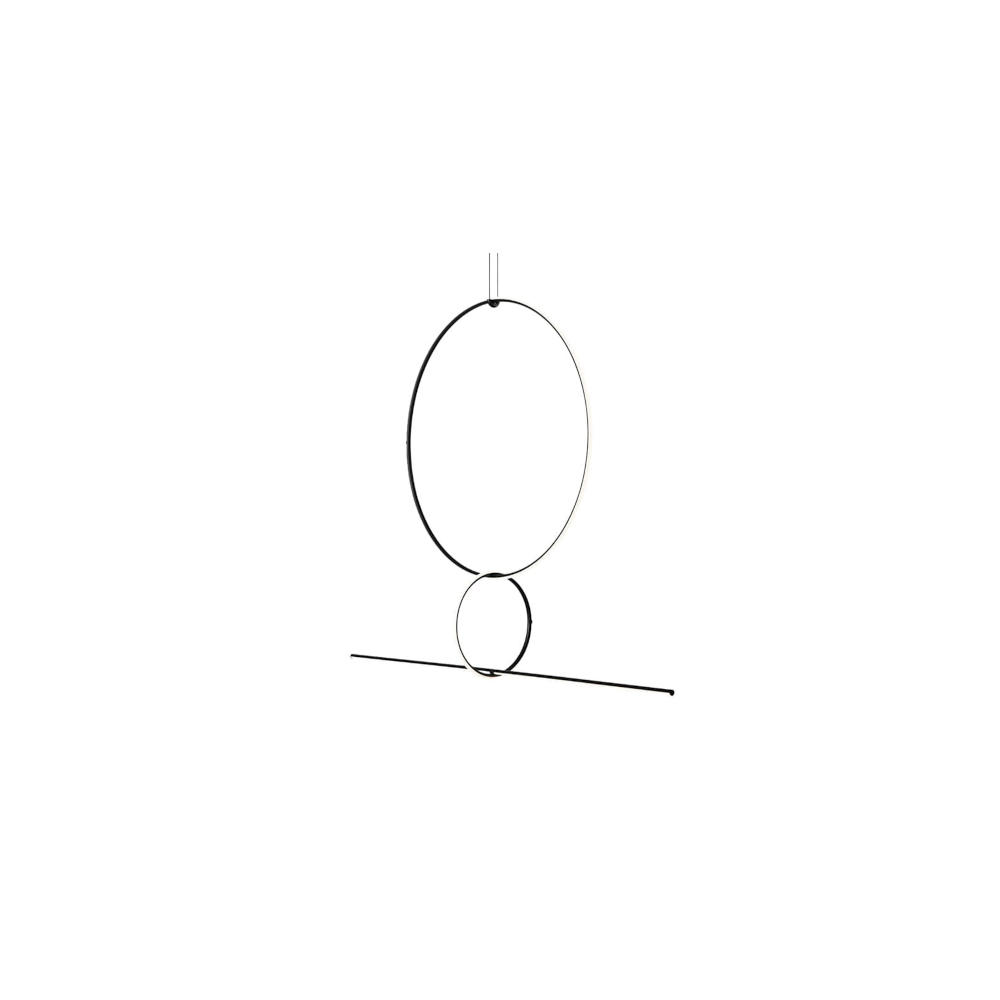 Arrangements
Describing Arrangements by Flos in terms of a simple piece of furniture is extremely reductive, as we are dealing with a real work of contemporary art.
Come è fatto Arrangements Flos
Si tratta di un sistema modulare di elementi geometrici di luce che è possibile combinare in vari modi, creando composizioni multiple di singoli chandelier. Il corpo principale è in alluminio estruso, curvato, lavorato a CN e verniciato nero a polvere, il diffusore è in silicone ottico platinico. I rosoni sono disponibili in due potenze : per una configurazione con potenza inferiore a 70W o inferiore a 190W ; sono inoltre disponibili rosoni classe III per installazione con power supply remoto, in versione "surface" per soffitti in cemento, o "recessed" per cartongesso. Ogni elemento della struttura è alimentato e studiato in modo da permetterne configurazioni personalizzabili.
Sono infatti possibili quattro configurazioni da uno, due, tre e quattro moduli luminosi, combinabili come le catene di un gioiello.
Arrangements Flos; un gioiello per la tua casa
Ed è proprio al mondo dell'oreficeria che si è ispirato il designer londinese (ma cipriota di origine) Michael Anastassiades per creare questa incredibile ed iconica opera in cui gli elementi geometrici si uniscono per creare giochi di luce e spazio ; ogni sua unità si collega alla precedente in modo semplice ed in perfetto equilibrio, proprio come gli anelli di una catena luminosa. Lui stesso utilizza il termine "pendant" in inglese nella sua doppia accezione : quella di gioiello o pendente di una collana e quella di luce appesa al soffitto. Come un gioiello nasce per essere indossato e per decorare una persona, così una lampada appesa al soffitto, è un elemento decorativo (nonché altamente funzionale) di una casa ; ma Arrangements Flos non è una semplice decorazione, è un gioiello che non solo riflette la luce esterna, ma ne produce esso stesso, in un equilibrio affascinante e magico di linee rette e curve.
Arrangements nasce nel 2018, anno in cui viene presentata al mondo in occasione del Fuorisalone - Milano Design Week ed è diventata in breve tempo un'icona di creatività e stile. Ma giova ricordare che Anastassiades collabora con Flos dal 2013 : String Lights, IC Lights, Copycat sono solo alcune delle meravigliose opere nate da questo sodalizio di successo. Il carattere poetico ed evocativo del suo design, unito all'uso sapiente delle più innovative soluzioni tecnologiche, rende ogni sua opera unica ed incredibilmente emozionale.
Arrangements è poesia all'interno di una casa, è musica sui soffitti, è davvero arte allo stato puro, in grado di nobilitare ogni ambiente su cui venga posato. Tutto questo, e molto altro, è Arrangements di Flos.