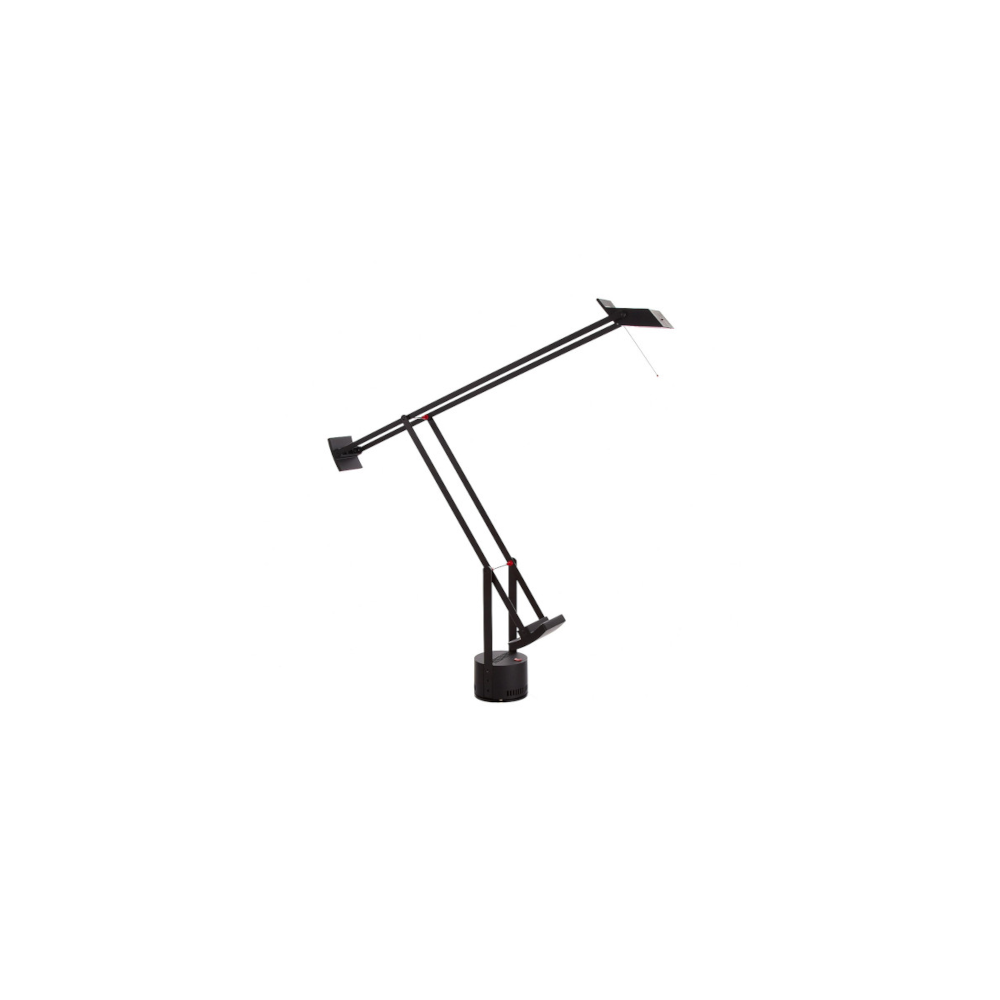 tizio artemide
The Tizio lamp was designed by the designer Richard Sapper in 1972.
It is made of metal, with a thin nylon and glass coating that form the two arms thanks to which it can assume various configurations and positions.
Alle estremità di questi sono posti dei pesetti che fanno sì che la lampada sia perfettamente bilanciata.
Si tratta di una lampada alogena della potenza di 12V, alimentata da corrente elettrica che la percorre in tutta la sua lunghezza, senza però mettere a rischio chi la utilizza, poiché la base è progettata per contenere al suo interno il trasformatore nel quale si concentra tutta la tensione.
In alto vi è l'interruttore per accendere e spegnere la lampada e scegliere fra due modalità di illuminazione. Alla base, sono inoltre collegate due piccole bande di metallo che la legano ai bracci, in modo tale che non vi sia il bisogno di utilizzare cavi elettrici a vista che rovinerebbero la resa estetica di Tizio.
La lampada è prodotta in alluminio, senza l'impiego di vita ma di giunti, fissati per mezzo di sistemi di pressione. In tal modo, qualora la lampada dovesse cadere, i bracci non si rompono ma semplicemente si staccano dal resto del corpo, per poi poter essere rimontati tranquillamente. I giunti sono costituiti da semplici bottoni da abbigliamento, fissati a pressione, che garantiscono un montaggio semplice e veloce.
La lampada Tizio è sul mercato nella versione nera, quella originale, e nella versione bianca, a seconda dei gusti e delle necessità: la nera di carattere industriale, la bianca più chic e raffinata.
Tizio ha tutte le caratteristiche principali di ogni lampada che possa essere definita tale. Ogni sua componente è stata progettata attentamente per comunicare esattamente la propria funzione: a partire dalla base con l'interruttore, la testa con la lampadina, i bracci etc.
Al di sotto del riflettore, vi è una piccola asta di metallo, che consente di regolare la posizione della lampada senza il rischio di ustionarsi.
Una curiosità molto simpatica riguarda la scelta del nome di questa lampada. Il nome Tizio fu scelto perché l'intento era quello di convincere Tizio, Caio e Sempronio ad acquistarla, e quindi a poter soddisfare le esigenze di chiunque. Il desiderio iniziale, infatti, era proprio quello di creare una lampada che avesse grandi possibilità di movimento, ma allo stesso tempo che occupasse pochissimo spazio.
Si tratta di un'icona del design, è famosa in tutto il mondo è presente in tantissime sceneggiature e riprese cinematografiche. Nonostante siano passati ormai cinquant'anni dalla sua nascita, la lampada Tizio continua ad essere un simbolo di differenziazione, di qualità e classe, frutto ed orgoglio del Made in Italy.