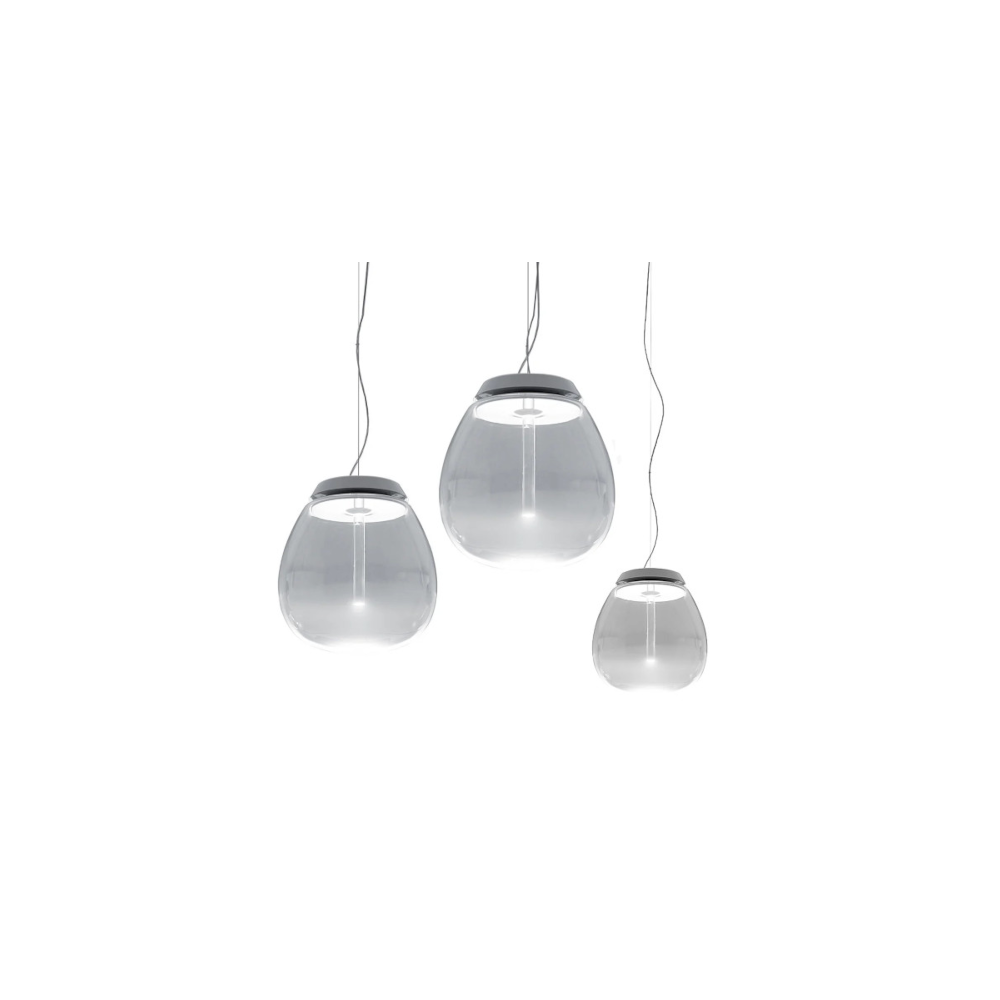 Empatia Artemide
Empatia is a line of Artemide chandeliers that comes from the encounter between LED technology and the tradition of blown glass.
Blown glass has always inspired designers and this interest has led to collaboration with master glassmakers, in order to have total control over the plasticity of Venetian glass, an essential feature for finding the balance point between the surface of the material and the light, between the density of the glass and its transparency. The result of this craftsmanship are pure, clear, unique objects.
Le trasparenze e le opacità sono dosate con maestria per ottenere un vetro in grado di riflettere e diffondere la luce in maniera efficiente, ma senza creare disturbi agli occhi.

I lampadari Empatia hanno un cuore rappresentato da un light engine LED dalle elevate prestazioni. Il LED non è incorporato nel corpo di vetro, così da garantire l'efficienza termica e prestazionale. Il LED è installato infatti attraverso un light pipe trasparente con un coefficiente di assorbimento molto basso.

La linea Empatia si compone di diversi modelli:
Empatia da parete/soffitto
Ognuno di questi modelli offre delle varianti per quanto riguarda le dimensioni della lampada e la potenza dei LED, così da soddisfare le esigenze di ogni cliente e rispondere al bisogno di personalizzare il proprio ambiente. Empatia è infatti una linea progettata non solo con l'obiettivo di illuminare, ma anche con quello di trasmettere semplicità ed eleganza, originalità e qualità.


La linea Empatia è stata disegnata da Carlotta de Bevilacqua e Paola Monaco di Araniello.
Carlotta de Bevilacqua è un'imprenditrice, architetto, designer e docente il cui pensiero si caratterizza dall'unione tra umanesimo e scienza, volto a un'impresa 4.0 che sia sociale e al tempo tesso innovativa. Il suo obiettivo è unire sostenibilità a progetti che siano in grado di donare benessere alla persona, attraverso la luce.
Paola Monaco di Arianello lavora con Carlotta de Bevilacqua dal 2008 e insieme hanno sviluppato diversi progetti nel campo dell'illuminazione.
Il suo stile si riconosce per la chiarezza, la semplicità, la concretezza e la qualità, caratteristiche che le permettono di personalizzare i suoi progetti, in base alle esigenze e le qualità del cliente.

Illuminare una stanza non significa più semplicemente accendere una luce, ma strutturare quella luce affinchè riesca a toccare e illuminare non solo l'ambiente, ma anche la persona che andrà a viverci, con un occhio di riguardo alla sostenibilità e alla limitazione degli sprechi energetici.