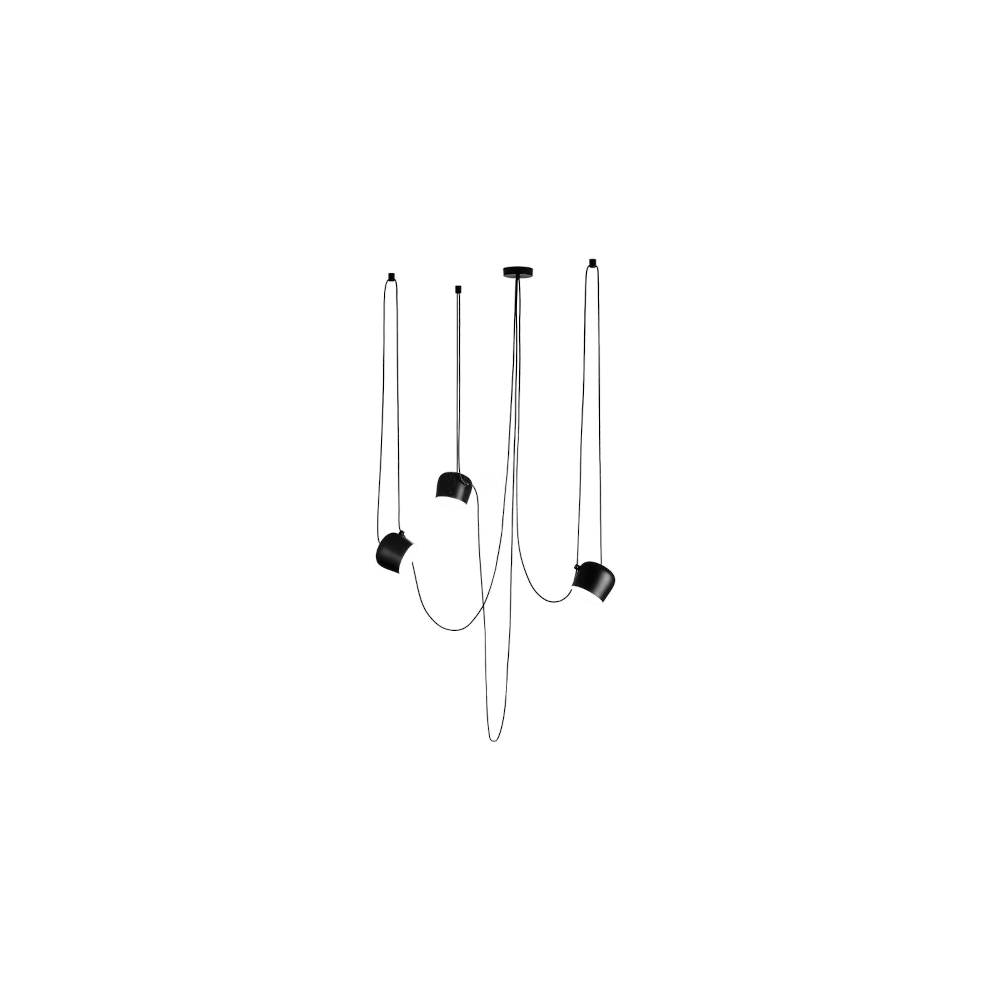 Aim
With the Aim suspended luminaire it will be easier to highlight what it deserves. Its design was created by the Bouroullec brothers in a practical and functional style that is inspired by the industrial theme while also winking at the cinema of yesteryear.
Ronan e Erwan Bouroullec sono i fratelli bretoni del design contemporaneo; concluse le rispettive formazioni a Parigi e Cergy-Pontoise, nel 2009 il duo ha iniziato subito una ricerca personale che li ha portati a sperimentare sensazioni e materiali dando origine a una vasta gamma di articoli che spaziano dalle mattonelle alle sedie, dagli arredi per il bagno ai mobili per ufficio, fino ad approdare in tempi recenti ai televisori.
Il loro stile è stato apprezzato e premiato nelle più importanti esposizioni mondiali (dal Salone del Mobile di Parigi nel 2002 al Compasso d'Oro nel 2011) ricevendo riconoscimenti di fama internazionale anche dalle più prestigiose riviste del settore, come la Wallpaper* che nel 2016 li ha incoronati come designer dell'anno.
Da questi trascorsi ispirati nasce nel 2013 Aim, un articolo che si contraddistingue per essere molto più di un semplice lampadario; la sua forma ricorda i riflettori usati sui set dei film di qualche tempo addietro o i fari delle fabbriche, ma richiamano anche una netta idea di pulizia delle linee.
Il riflettore interno è orientabile permettendo di utilizzare Aim come un vero e proprio faro, orientando la luce dove si preferisce e all'altezza più consona. Uno dei punti di forza di questo prodotto è la possibilità di acquistare un rosone multiplo al quale possono essere collegati fino a cinque Aim in sospensione che permetteranno di uniformare lo stile dell'ambiente e illuminare le zone che si vogliono far risaltare.
I materiali parlano di una ricerca approfondita e di uno studio profondo delle tecniche di lavorazione. Alluminio, policarbonato ottico e ABS sono stati trattati con le tecnologie più avanzate per creare un prodotto impeccabile; la fotoincisione, applicata al riflettore, permette di lavorare la superficie metallica per renderla molto più sottile, mentre la verniciatura a liquido consente di sfruttare le caratteristiche chimiche e fisiche della vernice per ottenere effetti uniformi e sensazioni tattili, aggiungendo il vantaggio di una massima protezione contro la quasi totalità degli agenti chimici.
Il lavoro di Ronan e Erwan Bouroullec è dunque un apparecchio di illuminazione che racchiude nel suo inconfondibile design un grande valore di ricerca, sperimentazione e innovazione, ma le sue linee pulite e semplici, lo rendono adatto ad una vasta gamma di locali che vanno dal minimal all'industriale, sia negli ambienti di lavoro che in quelli domestici, coniugando funzionalità e stile.